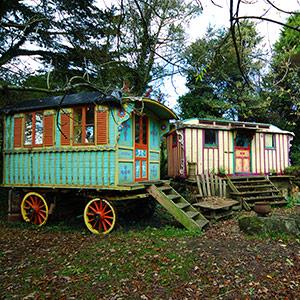 By Lauren Etter, The Wall Street Journal

A different sort of mobile home is gaining popularity, making its way from Europe to the U.S. The brightly colored gypsy caravan, once used by Romany families, traveling salesmen and circus performers, is reappearing — this time used by affluent homeowners as guesthouses, party spaces and studios.
The most ornate of the wagons resemble giant Fabergé eggs, with gilded woodcarvings, cut glass mirrors and red velvet interiors.
Earlier this year, a wealthy Russian throwing a party for his daughter's 25th birthday on a Greek island decided a gypsy caravan would add a nice touch. He called Kees Hoekstra, who specializes in refurbishing antique caravans and building modern replicas. Hoekstra had two to offer: one newly built; the other a restored antique, about 65 years old, with a marble mantelpiece and intricate carvings. Hoekstra sold the two for about $75,000.
Post continues below
"They sent two trucks from Greece to pick them up," says Hoekstra. "They ended up painting them gold on the outside."
Hoekstra, a Dutchman living in southern France, started his business nearly 20 years ago. He sells at least half a dozen a year and often has a waiting list of equal size. Under his guidance, craftsmen in the Czech Republic build the wagons from scratch, carving intricate patterns on the exteriors and adding brass trim, and, if requested, sandblasting the windows with floral designs. It takes about six weeks to build a new caravan, he says, with up to eight men working full time.
The value of a caravan depends largely on the intricacy of its woodcarvings and the quality of its interior. "It's a piece of movable art," says Tim Jasper, a designer whose eponymous U.K.-based design firm builds garden wagons, as he calls them, or upscale, modern gypsy caravans. His first wagon, built in 2010, was featured at the Chelsea Flower Show that year. The wagon was inspired by the opera "La Bohème," which he says is reflected in its hand-hammered copper panels on the outside and silk curtains on the inside. It also has an oak interior and a flat-screen TV.